About Our School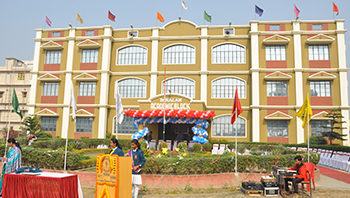 The school was founded on 20th January 2002 with 1 (one) student. It is located in the heart of Begusarai town, behind G. D. College. It is just one and half kilometers away from Begusarai Station (BGS), sixteen kilometers away from Barauni Junction (BJU) and twenty five kilometers away from Hathidah Junction (HTZ). The nearest airport is Jai Prakash Narayan International Airport, Patna. In spite of being located centrally, it is situated in lush green eco-friendly environment away from the hustle & bustle of city life.
The journey from one student in 2002-2003 to around 2000 students now has not been a cake walk on bed of roses. Lot of hard work and sacrifice has been made in the making of the school from a paltry beginning to a well established school affiliated to CBSE, Delhi upto +2 level and accredited by British Council. The school has been an Alma Mater to many Techno kids, Medicos, Managers, Administrators, etc. who form the part of School Alumnus
Our Motto & Vision
The vision of the school is aptly signified in its motto viz.
" Everyday Towards Progress"

The words engraved in the school logo viz Duty, Discipline and Devotion symbolise the modus operandi of the school to achieve this progress by the day. The school family is persistently working to realise and accomplish the vision on daily basis in such a way that " Everyday towards progress " has become the modus vivendi of the school.